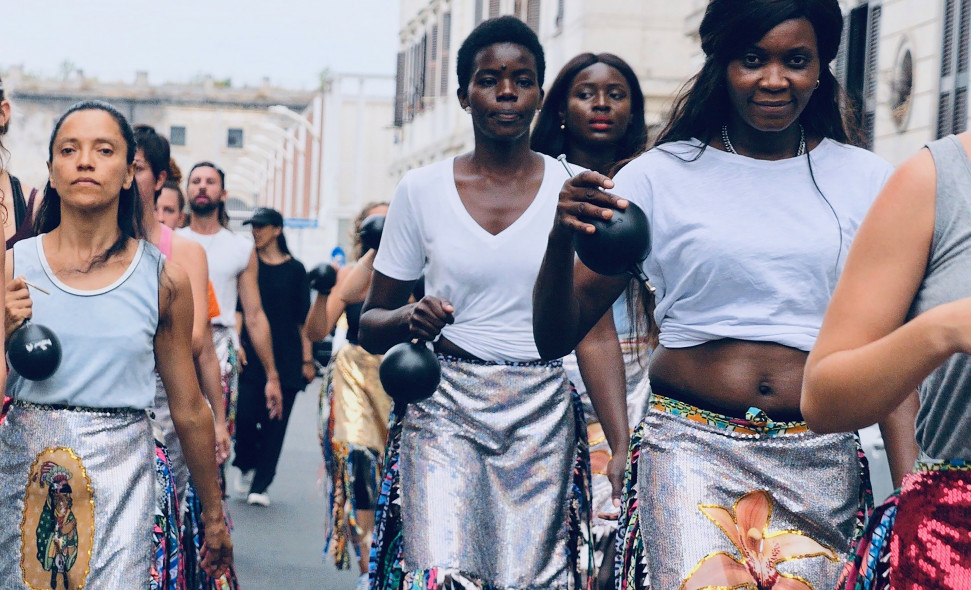 The ÍDEM Festival is back for another year, inviting audiences to engage with leading international and national artists and their refreshingly audacious projects. Ancestral practices, things hidden in memory and mystery are the core themes of this edition, associated with the notion of a grounded sustainable world.
Supported by:

Six companies from three continents —South America, Africa and Europe— present works that adopt a distant view of colonialism and anthropocentrism to challenge the official and hegemonic channels through which knowledge is transmitted.
Based on different approaches, cultures and practices, five performances, a workshop and an installation speak to us about topics such as sustainability, resistance, heritage dances and borders, about the fragility of territories, intangible heritage, about the non-invisible and collective rites, inviting us to reflect on and question how we have reached this present moment in time.
On 14 September the artist Amanda Piña (Chile-Mexico,) accompanied by a team of ten artists from different parts of Europe, presents Frontera / Procesión, Un ritual de Agua [Border / Procession, A Water Ritual], a public-space action in the Lavapiés neighbourhood. At the intersection of anthropology, history, philosophy, the visual arts and dance, Piña combines the colonial past, indigenous practices and hip-hop culture as a means of exploring the possibilities of a choreography of borders. The action will be preceded by a six-day workshop where the artist and her troupe will pass on the dance to 30–50 volunteers. Amanda Piña reminds us that a border is not only a place but is inscribed in our bodies.
On 8, 9 and 10 September the Alicante-based collective La Cuarta Piel presents Acumulaciones de un presente muy pasado [Accumulations of a Very Past Present], a speculative installation that fictionalises the geology of the future accumulated on the margins of cities. This immersive experience invites us to think about how human beings and geology become intertwined through the objects that surround us.
On 15 and 16 September the artist Mónica Valenciano, winner of Spain's National Dance Prize in 2012 and renowned for her powerful poetics and unique polyphonic world, presents El lugar de los pasos perdidos [The Place of the Lost Steps], a central piece at this edition due to its capacity to evoke hidden worlds. The artist will perform it again on 14 October at Tenerife Espacio de las Artes (TEA) as an extended part of the ÍDEM Festival.
On 20 September Reinaldo Ribeiro, a Brazilian artist based in the Canaries, visits us with I'm Not an Influencer (Schwarzenegger exterminó mi futuro) [I'm Not an Influencer (Schwarzenegger Exterminated My Future]. The piece revolves around the right to define our own realities and explores the idea of "not knowing" as a possibility for the future.
On 22 and 23 September the new icon of performance from the African continent, Cameroonian artist Zora Snake, presents Le départ [The Departure]. Borrowing from hip-hop and heritage dances, Snake uses his powerful body to create a unique language and issue a war cry against unfair societies, with deep political undertones and strong desire to change the way we see things. The performance on the 22nd will be followed by an encounter with the audience.
At 7 am on 23 September, during the autumn equinox, the company La Soledad presents Oficina de Amaneceres [Office of Dawns]. The precise moment the sun rises has always had great symbolic value in the history of humanity, dating as far back as ancient and prehistoric cultures, but it has gradually been lost in our post-industrial societies. The company asks how, more often than not, we can possibly forget that the dawn is a poetic action. What humbugs we are, who pretend to live for Beauty, and never see the Dawn!, exclaimed the poet Logan Pearsall Smith. Enough of humbuggery. Our work is beauty. We summon you to work.
The festival is curated by Marisa Lull.
Show less
Keep reading